Why You Should Choose Real Balance Accounting!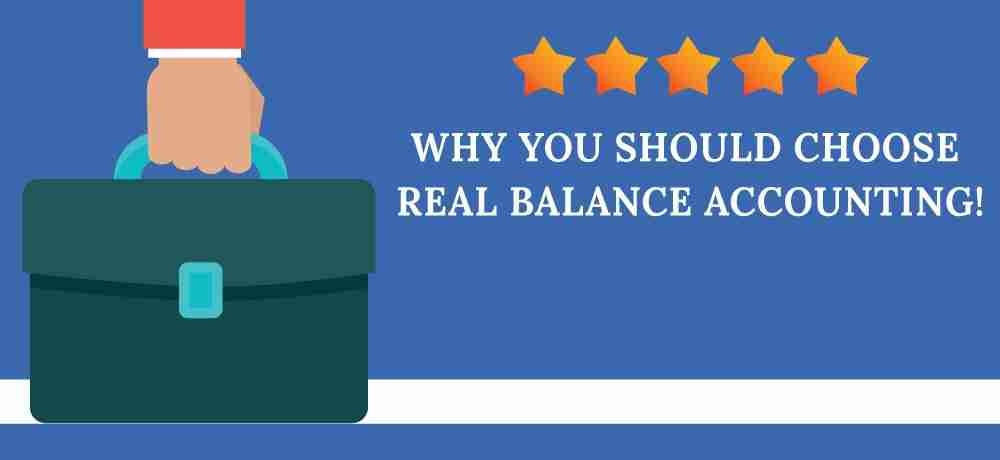 Balancing the books and taking care of the accounting needs of a business is not everyone's cup of tea. Moreover, with the ever-changing guidelines and regulations, it can be difficult for a layperson to stay on top of the rules of accounting and manage the financial aspect of their business in an optimal manner. Therefore, it's best to hire a professional bookkeeper and accountant to look after the finances of your business.
If you're looking for a bookkeeper and accountant, you need to put in a sufficient amount of research to find someone that meets your expectations. You need to check their qualifications and capabilities, go through reviews you see online, and speak to people who've worked with them.
At Real Balance Accounting, we are confident about the services we provide and will not shy away from giving you references. Besides, we will be happy to tell you why we are the top name in accounting.
We have been in the accounting sector for the past several years and have numerous happy clients. If you're looking for an expert accountant and bookkeeper, here are a few reasons why we are the best at what we do.
Exceptional customer service
As with any successful business, customer service is the backbone of our company. We ensure that we prioritize our customers and their needs. We are easily available and communicate effectively with our clients throughout the year.
Help our customers with their business needs
Our management advisory services, such as business consultation for set-up, financial analysis, and budgeting and forecasting, ensure the smooth functioning of our clients' businesses.
In compliance with rules and regulations
We make sure that our clients follow all the government reporting standards such as CRA, PST, WorksafeBC, etc. We stay up to date with the rules and regulations and relay this information to our clients.
Monthly value billing
We offer monthly value billing service, which enables our clients to be aware of their spendings and earnings every month and plan their finances accordingly.
Quick response time
We reply to our clients' emails and voicemails within one day. We are easily accessible and make them respond to our queries and keep them informed.
As a leading and experienced bookkeeper in Richmond, BC, we offer a variety of financial services to businesses across Richmond, Vancouver, Coquitlam, Maple Ridge, Langley, Surrey, North Vancouver, West Vancouver, Burnaby, Delta and White Rock, BC. We provide financial support to businesses through our guided and organized bookkeeping, payroll, management advisory, and tax services. Our team of experienced and knowledgeable professionals ensures that our clients get the best service in town.
To learn more about the services we offer at Real Balance Accounting, please click here. To read what our clients say about us, please click here. If you have any questions about how we can help you, get in touch with us by clicking here.
---
---