Top Five Things To Look For When Hiring An Accounting Firm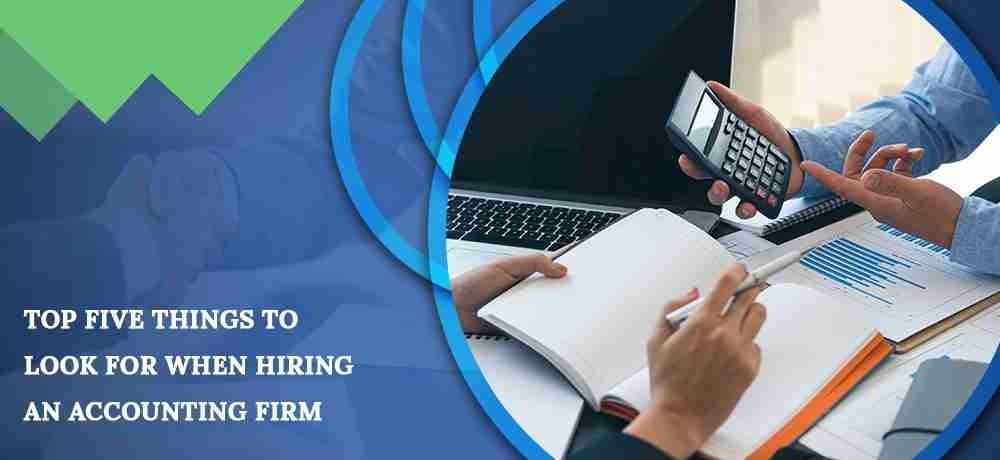 When we look at accountants, we usually look for an individual to assist with getting our books in place or working on filing the correct amount in taxes at the end of the year. Most people are not accounts savvy enough to work on the process, and they should get someone to assist with the process to make sure there are no issues with everything working smoothly.
You should know that there is a wide range of accountants who assist with a lot more than bookkeeping and accounts. They offer various other services, like payroll management, coordinating accounting tasks to help the company make informed financial decisions. There are accounting teams that are happy to assist with investments and even purchase decisions when it comes to working with a company. Some companies even coordinate with their accountants and have them step in and give them the green light on the expenses they have to make.
We learned that many people are unsure about the process and do not know where to begin or assist. While there is a lot that a team or the people running a company can read about accountancy or learn if they are planning on working with an accounts team, we thought it makes sense they hire an accountant to handle tasks they cannot. It would then be counterproductive to learn about a field if they are delegating it out anyway. Here are some of the pointers people can keep in mind when looking for a new accountant. If you are working with a team equipped to assist, always ensure that your team has all the pointers mentioned below.
1. Customer Service
People have to make sure they are working with a team that is always open to listening to their concerns. The most important thing is that the accountant is always available to get in touch with their team whenever needed. The account team that you are working with should be putting you before anything else. They should focus on your accounts and needs and be capable of assisting at ease.
2. Onboarding Process
When you are beginning to work, you want to feel like the team you are working with has a team that would make you feel like they will handle everything, so you are stress-free. They should ask questions and gather all the information so they better prepare to get through. While you might not have all the information, you can likely collect and provide it. When you are working through it, gathering information makes you feel like you are in good hands.
3. Follow up of Service Agreement
There are many requirements when you are getting through the process, and you have to sign documents that give the accountant the right to handle specific tasks. While some companies might be open to accountants beginning working after receiving a verbal confirmation, the team cannot go ahead if they do not have documents allowing them to. Additionally, there are some documents that they have to get signed, so if there are issues when it comes to filing on time, if there were errors, the accountancy firm would have to work on them and not the people running the firm.
4. Value Pricing
After working through the process and finding the best team to assist with the ins and outs, make sure the costing they send over makes sense. Finding the best team to work with but with prices that make no sense is pointless. Most accountants charge a small flat fee, but some are open to working on a percentage or commission-type deal. You have to make sure that the amount you are charged makes sense to get through the process. Always talk to others to see what they are paying for similar services, so you receive a similar cost. Otherwise, you might find that you are paying a lot more, which might not make sense. Additionally, you might be paying higher than the rest because there are additional services that you avail of that the others do not, so account for that as well.
5. Trusted Advisor
You have to look at your accounts team as your trusted advisor, who you can talk to at any point in time. You should be able to trust them, and they should look after your interest. When you are dealing with an accountant, you are showing them the amounts you earn and the expenses you make. You have to make sure that you trust them. You have to know they have your interest in mind so every decision they make, you do not have to think twice about. If there are implications, you should know that your accountant already thought about those as well.
If you are looking for a leading bookkeeping and accounting services in Richmond, BC, connect with Real Balance Accounting Services Ltd. We work on the accountancy and finance part of running a business while you focus on aspects of building a larger company or business. Some of the primary services we provide are bookkeeping, payroll management, filing taxes, providing management advisory services among others. Additionally, we let our prospective clients hear from the current ones through testimonials to make an informed decision. If you want to get a better understanding of the services that we provide, please click here. If you want to get in touch with us, please click here.
---
---